Messines Model, Cannock Chase : Excavation and Survey 2013
It has long been known that there was a Great War terrain model on Cannock Chase, indeed there are documents, photographic records, and oral histories to prove it existed. However, it was not until a small-scale investigation on the site in the summer of 2007 was undertaken by local enthusiasts that it was established just how well preserved the remains of it were. In 2013 Staffordshire County Council were successful in gaining financial support from Natural England as part of a Higher Level Scheme (HLS) to undertake an open area excavation and laser scan of the site. No Man's Land was commissioned to undertake the excavation and oversee the scanning element. The excavation was undertaken between 2nd-September and 2nd October followed by laser scanning and then a programme of full reinstatement.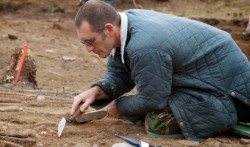 The monument itself is a three dimensional representation of the town of Messines and its surrounds, depicting the situation at around the end of May 1917, before the final bombardment of the town in advance of its storming. The topographic or, more properly in military parlance, terrain model includes a range of features intended to represent the Messines battlefield.
To download the final report click here EC4600 Messines Model – FINAL REPORT
 Click here to see the 3D LIDAR model of Messines Model