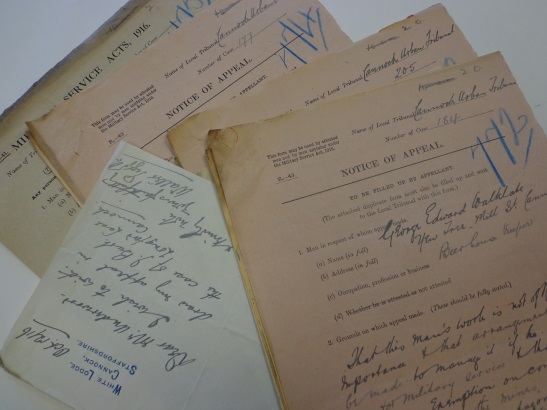 Staffordshire Appeals: Opening access to Staffordshire's Great War Local Military and Appeal Tribunals
The fantastic public response that the Staffordshire Appeals Project had following its appearance on BBC news has enabled Staffordshire and Stoke-on-Trent Archive Service to gain the assistance of over 50 new volunteers. This unprecedented interest meant that we have been able to do much more with the records than originally intended.
The records that are being worked on are important because all military appeal tribunal records across the country were ordered to be destroyed after the war – but an oversight meant those in Staffordshire survived. Volunteers are helping us to open up access to these records by re-packaging, indexing, cataloguing and digitising approximately 2626 Appeal Tribunal case papers as well as Local Tribunal cases, Newspapers, Minute Books and School Log Books; all searching for interesting and personal stories, offering a real opportunity to learn more about war in Staffordshire.
The first group to start has begun work on repackaging the documents. Being produced in the war has meant that the paper is of a very poor quality, the repackaging ensures they will survive in a fit state to be worked on by other volunteers but importantly that these records survive for future generations to enjoy!
Thanks to the extra numbers, volunteers are now working on the collections at Stoke and Lichfield Archives, the William Salt Library as well as extracting articles from newspapers held across Staffordshire libraries. These collections tell the story of the Great War on the home front, from the impact on local industries to the development of war time recipes for the whole family.
Through the development of this project, not only will we learn more about those who were called to the Colours, but also on the world of Staffordshire's communities at that time, helping us to understand the stresses and strains on work and family life during 'the Great War'.
We still have a couple of places open for volunteers to work on digitising the Appeal Tribunal case papers! If you would like to get involved please contact Project Officer, Rachael Cooksey ([email protected]) for more information.